A report by Share The World's Resources demonstrates how governments could mobilize over $2.8 trillion each year to bolster the global sharing economy and prevent life-threatening deprivation, reverse austerity measures and mitigate the human impacts of climate change.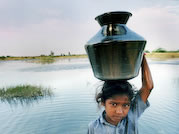 Humanity is facing a global emergency. Extreme poverty and climate-related disasters are taking the lives of over 40,000 people every single day and severely affecting many millions of others. At the same time, dramatic cutbacks in public spending on social welfare and essential services are making it increasingly difficult for many families to meet their basic needs, even in the richest nations.
For more on this story, visit: Financing the Global Sharing Economy – STWR – Share The World's Resources.