I heard in a news story today on the radio, probably, NPR, that there are 15,000 people living in tents in South Sudan and 1,500 children have been abducted as child soldiers and many have died from starvation and disease. I couldn't help but ask myself, is there any hope here? Is there any hope in the story of the 1-year-old boy whose name translates into "wholeness," because, as his mother states, 'while they're fighting out there, we're whole family in here.'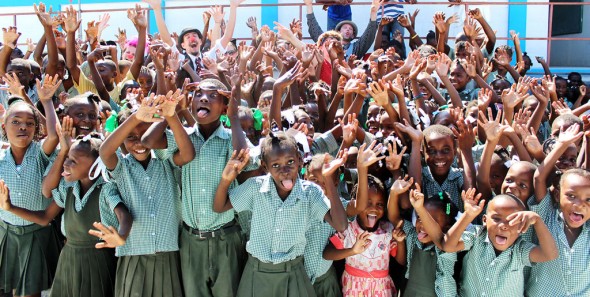 Then I found this ::: Clowns Without Borders was founded in Barcelona in July 1993. The idea began when Tortell Poltrona, a professional clown in Spain, was invited to perform in a refugee camp in Croatia. This performance unexpectedly attracted audiences of more than 700 children, proving to Poltrona that there is a great need for clowns and entertainment in crisis situations.  He founded Clowns Without Borders to offer humor as a means of psychological support to communities that have suffered trauma. Read the UNHCR interview with Tortell Poltrona.
You might think that clowns are scary or silly, but check out Clowns Sans Frontiers' Code of Ethics:
Code of Ethics
The objective of this code is to provide a series of written guidelines of ethics for all clowns and artists who collaborate with Clowns Without Borders.
The clown or collaborating artist will hold as fundamental objectives to better the situation of children who live in crisis situations of whatever type (conflict, natural disaster, social inequalities, etc.) in whatever part of the world.
The main beneficiaries of CWB projects are children living in situations of crisis and the clown or collaborating artist will make no distinction between them for reasons of race, age, religion, culture, social situation or any other categorization when offering his/her work.
For clowns and collaborating artists participating in CWB projects, volunteerism is the general rule.
In respect to the clown/artist's public image, he/she will not use the participation in humanitarian activities as a means to promote their professional career, separating clearly at all times such activities and not using his humanitarian work for publicity purposes or to promote his/her professional career.
The clown or collaborating artist will not use their humanitarian activities to impart personal 'points of view' to the destination populations of the projects and will limit themselves to sharing their artistic activities. The artist will not attempt to "educate" the population, refraining from any "evangelical" activities.
The clown or collaborating artist, when choosing the contents of his/her performances and workshops, will consider the sensibilities of the destination population, taking into account their culture as well as the delicate situation in which they are living.
The clown or collaborating artist when working with CWB projects sees and shares difficult situations. Their work does not end when they return home. They should testify in the measure possible all situations of injustice that they have witnessed.
When participating in a project, during our performances and in our contact with the public, we remain clowns and artists, and this is the sole method with which we express and experience the validity of our actions.
We remain vigilant and attentive that the name, logo, and identity of Clowns Without Borders will not be will not be used as a vehicle for remuneration.
In the matter of seeking financial support, we remain attentive to the ethical values and the respect of human rights of our sponsors and partners.
Learn more about this amazing group here: About Us ⋆ Clowns Without Borders