In 1908 community learning took a new direction in Boston and spread across the country as the Open Forum Lecture Movement. Locally planned, transdenomenational lectures included Q&A and were characterized as "the Striking of mind upon mind".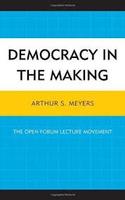 Generate some light with other audience members as author Arthur S. Meyers explores the power of community conversation.
Reviews of Democracy in the Making:
Meyers' original and exciting investigation [and] deft, nuanced analysis….thoroughly explores the movement's strengths and weaknesses, providing insights that will be valuable to historians—and to all who seek to develop inclusive solutions to social problems.
(Nancy C. Unger, associate professor of history, Santa Clara University; author, Fighting Bob La Follette: The Righteous Reformer )
…[A] clearly-drawn narrative….connect[ing] this non-sectarian, semi-secular movement to the Chautauqua and Lyceum movements of earlier generations.
(Richard D. Brown, Board of Trustees Distinguished Professor of History, emeritus, University of Connecticut )
I recommend this book highly for students of adult education and for public officials and civic leaders who want a model of public discourse for civil conversation in a time of polarization.
(Harold W. Stubblefield, professor emeritus, Virginia Polytechnic Institute and State University )
For more on this story, visit: Library Democracy Forum with Arthur S. Meyers – Eventbrite.